Product Description
LA6000 12 Volt Linear Actuator, also known as Electrical Linear Actuator, also called motor push rod, electric cylinder and linear actuator. The LA6000 12 Volt Electrical Linear Actuator is an electric drive device which converts the rotating motion of the motor into the linear reciprocating motion of the push rod. Electrical Linear Actuator can be used as the actuator in various simple or complex process to achieve remote control, centralized control or automatic control.
Working Principle
: The motor reduces speed by gear, drives a pair of screw nuts, turns the rotation motion of the motor into linear motion, and uses the positive and negative rotation of the motor to complete the push rod action. For example, it can complete complicated actions such as rotation and shaking through various levers, rockers or linkages and other mechanisms. By changing the length of lever arm, the stroke can be increased or increased.
Main Applications
: Electric medical bed, electric sofa, lifting rod for electric booth, industrial electric lifting system, camera tripod , projector, wedding system.
Technical Data
1. Permanent magnet DC motor drive;
2. Voltage DC12V / DV24V
3. Max. push / pull: 6000N / 600KG
4. Standard stroke: S= (50, 100, 150, 400, 800) mm, can be customized according to requirements
5. Min. installation dimension (Distance between the two end holes when the push rod is fully retracted): L = S (stroke) + 175mm; Distance between the two end holes when the push rod is fully extended = 2XS (stroke) + 175mm
6. No load speed: 4.5mm/s, 8mm/s, 22mm/s, 42mm/s
7. Operating Temperature: -10~40℃
8. IP Grade: IP54
9. Internal stroke switch
10. Low noise design, noise level lower than 65dB
11. Can be equipped with wire or remote controller.
Voltage
DC 24V / DC 12V Linear Actuator


No-load speed (mm/s)

4.5
8
22
42
Load force (N)
6000
3000
2000
500
Stroke Length (mm)
50~800 can be made to order
Outline Dimensional Drawing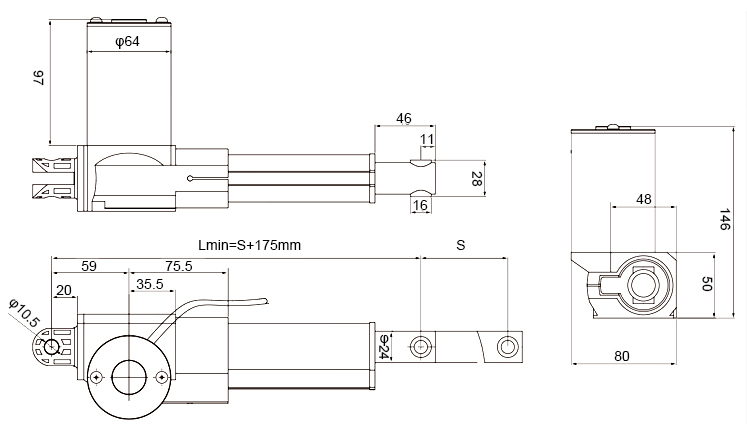 Keywords:
12V Electrical Linear Actuator | 12 Volt Linear Actuator | 24V Linear Actuator Manufacturers